First Men's Group at Tabor Lodge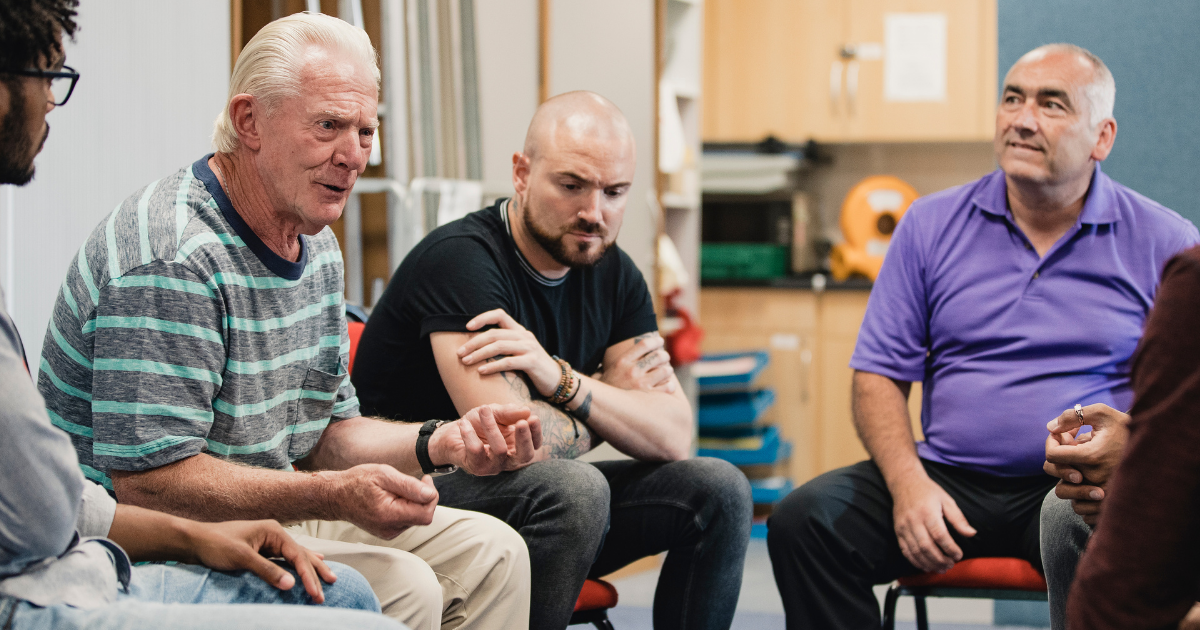 Tabor Group's very first 'Men's Group' recently took place at Tabor Lodge, conducted by myself, Paul Fearon, Tabor Group's Continuing Care Coordinator, and Dan Cottrell, a Tabor Group addiction counsellor. In this blog we are going to take a look at how this very first 'Men's Group' went.
In attendance at this group, were all nine men who, at the time, were taking part in Tabor Group's Primary Residential Treatment Programme at Tabor Lodge. Two out of the nine men in attendance had never experienced a 'Men's Group' previously, so this was a brand-new experience for those two. Being Tabor Group's Continuing Care Coordinator and having over twenty years' experience sitting in and organising Men's Development Groups, I decided to open the meeting.
As the meeting began it was evident that the men in attendance were slightly nervous or apprehensive, perhaps a little unsure and curious about what was about to unfold. As 'Men's Groups' are experiential, it is difficult to capture or describe the process, but all begin by creating safety within the group. As all nine men were currently attending Primary Residential Treatment, they each had already experienced various groups while in Tabor Lodge. These groups would have included skills groups, reflective groups, 'here and now' groups, and family conferences. However, the tone and focus of this group is different and so brings with it an apprehension.
Guidelines were read at the beginning of the group, which are the basis for most group work, but especially used for 'Men's Groups'. They are used by the Men's Development Network and have been honed from years of hearing from men on what is essential to be in place before a 'Men's Group' can begin. The guidelines include:
Confidentiality
Respect
Take turns
Trust
Share
Honesty
Question with permission
No criticism/slagging about content
Safety
The first round of the 'Men's Group' was to ask each man about what creates safety for them. A distinction was made by one participant in relation to physical safety and emotional safety. He felt physically safe but was unsure about his emotional safety, which is often the case in a 'Men's Group'. He highlighted the physical effects, noticing that his heart was racing.
Once everyone in attendance was given the chance to speak, the topic of male gender conditioning was introduced. The main issues discussed being:
Men don't feel emotion
Men don't or should not cry
Men must not show weakness
Men must provide
Men don't talk
Men should not ask for help or show vulnerability
Men that stray from these norms may be penalised by other men for showing vulnerability
Respect for difference was encouraged at the group. The notion that there are many types of man, that men are not homogenous – there are big men, small men, wealthy men, disadvantaged men, gay men, transgender men, heterosexual men. Regardless of our orientation, our values, appearances, or preferences, we are nonetheless still men.
The earlier guideline of 'no criticism / slagging' and respect was then returned to. The men in attendance discussed how some men can take that, while others can't. But how do you know which man can, 'take the slagging' and which can't? My experience is that men can experience slagging as unsafe and then return to isolation. Men that suffer from isolation and disconnectedness experience greater health risks, heart complaints, overweight, and addiction issues.
Having created the safety and looked at some of the main beliefs of male gender conditioning, the group were then asked how this showed up currently in their daily lives. The following questions were then asked to the group:
Are any of you in the group experiencing separation or relationship issues?
Are there men here who find it difficult to control their anger?
Is there a difference between the feeling of anger and aggression?
How would someone experience them when they are being aggressive?
What do they notice in their body when they are being angry?
One man in attendance said that he feels his muscles tighten – that his eyes and face muscles would show his emotion. Another remarked, that he would quickly say sorry to his partner, in an effort to close down the conversation. He was then asked to reflect on this, if he could say to the other what he was saying sorry for. The aim of this reflection was to bring accountability and genuineness to his conversations and relationship.
Most participants in the group said they knew men who demonstrated the attributes of the conditioned man. We encouraged or asked if anyone could identify these attributes with themselves.
Coming to the end of the group, I reflected that I had been thinking about facilitating this group for some days. I commented how I had been recalling the wisdom I had learned by sitting with men such as the participants in this 'Men's Group' and hearing them talk about the things that matters to each of them. I told them I had been thinking of songs that moved me, such as "Willie McBride", and "In the living years". One of the participants said how "The Old Man" was his song and asked if he could sing it:
"Oh, I never will forget him,
For he made me what I am,
Though he may be gone,
Memories linger on,
God I miss him, the old man."
The atmosphere was charged in the room, with the lyrics of the song encircling the group. There was even tears showing on mine and a few of the other participants faces.
This blog was written by Paul Fearon, Tabor Group's Continuing Care Coordinator.