Give It Up For Tabor Group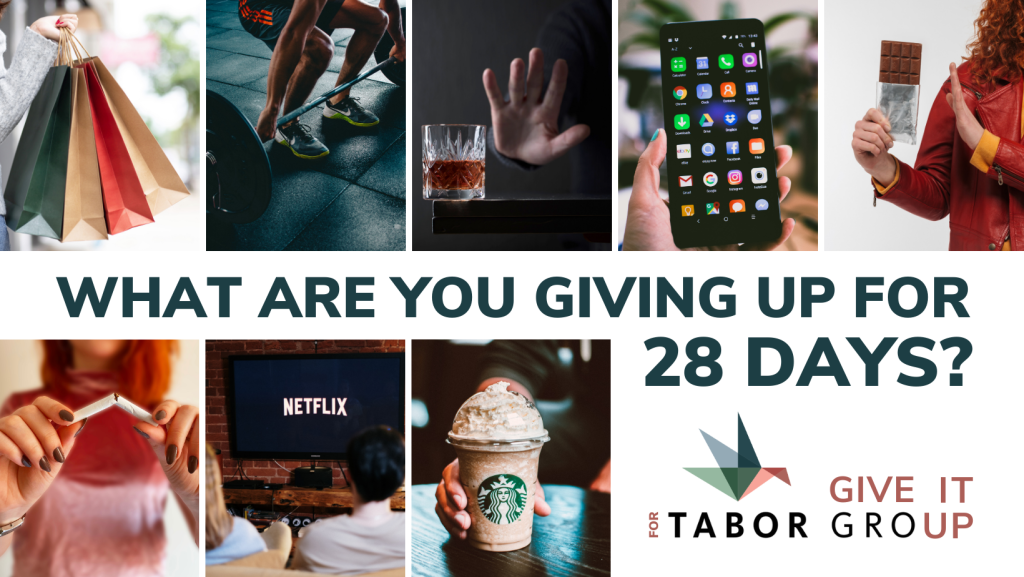 This year, take on the personal challenge of giving something up for 28 days – the length of our Primary Residential Treatment Programme – to help support Tabor Group and those living with addiction.
Whether you're cutting out chocolate, saying goodbye to your glass of wine or beer, or giving up skipping the gym to start the new year off right – get your friends, family and colleagues to sponsor you and make a difference to those battling addiction to alcohol, drugs and gambling at Tabor Group.
HOW DO I SIGN UP?
If you are interested in taking part in our "Give It Up for Tabor Group" campaign, follow the below simple steps to get yourself set up and begin fundraising.
STEP 1: REGISTER
Register your interest in taking part in our "Give It Up for Tabor Group" campaign by completing the registration form below. We will send you some useful information including a fundraising booklet, sponsorship form and templates for you to post on your own social media.
STEP 2: JOIN OUR GIVE IT UP FOR TABOR GROUP FACEBOOK GROUP
Share your progress, get inspiration and support everyone taking part by joining our Facebook group here.
STEP 3: CHOOSE WHAT YOU'RE GIVING UP
You now need to choose exactly what you're going to give up for the 28 days. Think about what would be the hardest habit or treat for you to give up, or make the biggest impact on you – this will encourage your friends and family to support you, as they know how tough it will be for you to give up something you really enjoy!
Below are some popular ideas people regularly give up in January:
Chocolate or sweets
Coffee from coffee shops (You could even donate the amount you would have spent on hot drinks to Tabor Group)
Buying new clothes
Online Shopping
Social media
Netflix
Alcohol
Smoking
Skipping the Gym
STEP 4: USE SOCIAL MEDIA
Post regular updates on your social media channels to let friends and family know how your challenge is going. Mark your milestones, show your fundraising achievements so far and share funny stories about how you almost caved, but showed great strength and didn't crack. You could also share tips and tricks about how you've been able to resist so far.
Make sure to tag Tabor Group in your social media posts and use #GiveitUpForTabor