Tabor Group Fundraising Table Quiz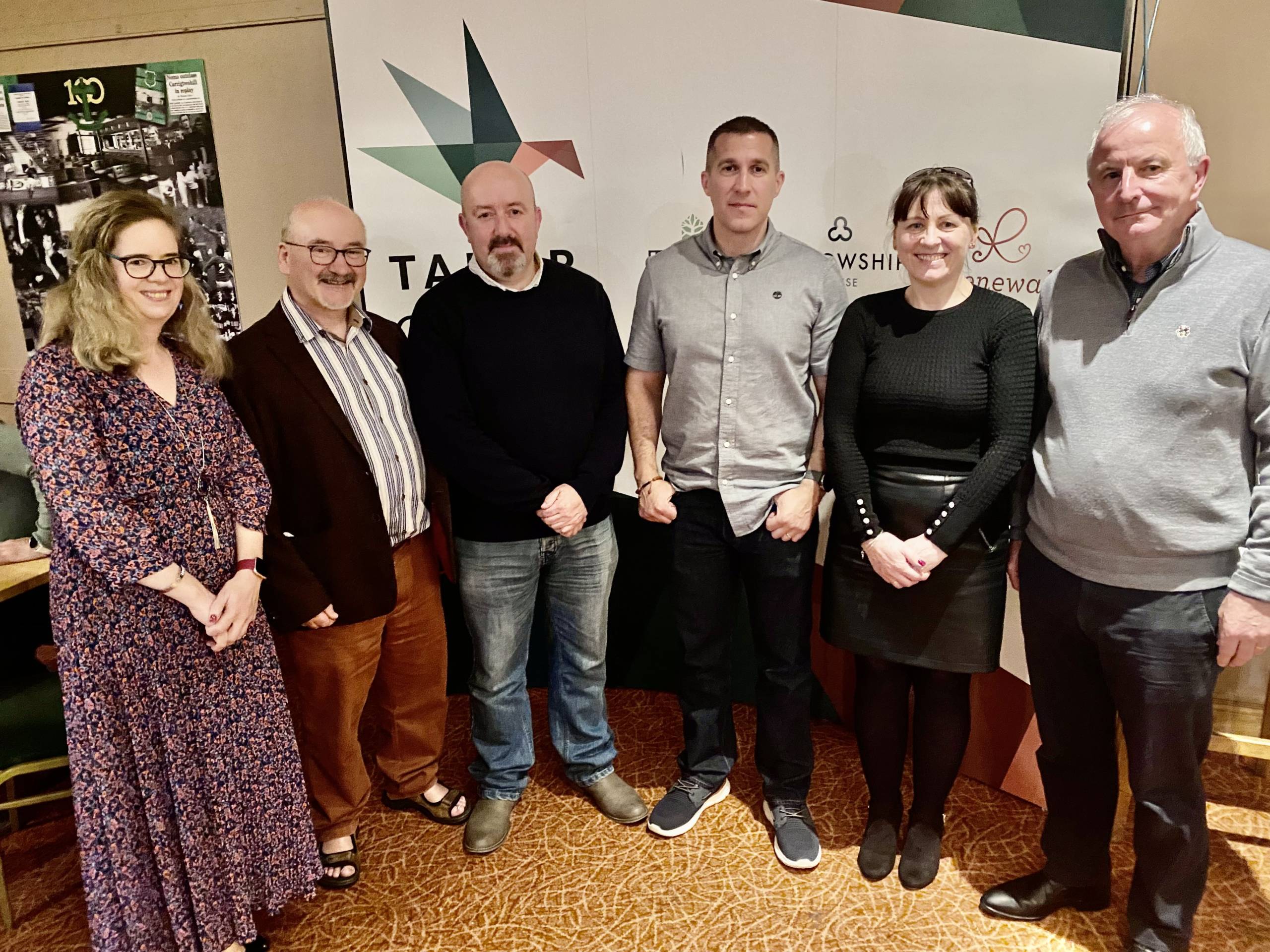 Earlier this month, Tabor Group hosted a Table Quiz at Nemo Rangers GAA Club in an effort to fundraise for our 'Exceptional Needs Fund'. The quiz, MC'd by James Leonard of 'The Two Norries Podcast', was a night full of fun and prizes and was a huge success. Over €5000 was raised on the night, with donations still coming in following the evenings event.
Opening the Table Quiz, Tabor Group's Operations Manager, John Calnan, thanked all the sponsors who kindly donated money and prizes for the quiz prizes and raffle taking place on the night (full list of sponsors below). The night wouldn't have been able to happen without the generosity of these individuals and businesses and is greatly appreciated from the Tabor Group Fundraising Committee and all involved.
100% of the proceeds from the Table Quiz is to go to Tabor Group's 'Exceptional Needs Fund' which provides addiction treatment to those who need it but are unable to afford it.
With almost 40 teams of 4 people taking part in the Table Quiz on the night, there wasn't a spare seat to be had in Nemo Rangers. After a tightly fought quiz, first place team came away with four €50 fuel vouchers and car washes sponsored by John O'Sullivan at Douglas Control & Automation. Second place won a dinner and afternoon tea for two sponsored by Clayton Hotels. While third place, which was decided by a tie-breaker question between three teams, won cinema tickets sponsored by the Gate Cinema and chocolates.
On the night, James Leonard, who was an amazing MC on the evening, praised the "amazing work" done each day by Tabor Group in both Tabor Lodge and Tabor Fellowship residential addiction treatment centres and was "delighted" to be able to help with the fundraising efforts for Tabor Group. James who is one half of 'The Two Norries', along with Timmy Long, has built a very successful podcast on the foundation of recovery from addiction and often discuss their own journeys into addiction and out of it through recovery.
James, who thoroughly entertained everyone on the evening and was an excellent quiz master and MC went on to say:
"I'm relieved I was the one asking the questions to be honest, rather than answering them! I had a great night; it was good fun for everyone here and was for a great cause."
The evening came to a close with an exciting raffle for those in attendance. Prizes included a €200 Pigsback Hotel Voucher and Visit Tralee Experience Pack sponsored by Media Life, a €100 voucher sponsored by Bull McCabes, Cork City FC family tickets, Barry's Tea Hamper and more.
Speaking at the Table Quiz, Tabor Group Chair Denis Healy said:
"Donations make a huge difference to us at Tabor Group and are a key contributor in allowing us to provide our addiction treatment service. Fundraising events such as these, have been understandably limited over the last couple of years due to COVID-19, but we thought now was the right time to run this quiz and we couldn't be happier and more thankful to have raised this amount."
From everyone at Tabor Group, we would like to give a special thank you to Nemo Rangers GAA Club and each of our sponsors on the night: Media Life, O'Mahony Insurance, Ardvark Tree Services, First Aid Cork, The Food Safety Company, F. Manning Limited, Compuland Computers, Woodland Print, Direct Blinds, Carrigaline Furniture and Carpet Centre, International Glass & Pottery Ltd., National Event Hire, Blarney Oil, Advance Maintenance, Doyle Home Services, Audiology Medical Services, V Mobile Office Supplies, Noel Bowen Landscaping, Kilmoney Surgery, Deloitte, Catch Security, Cork Recycling, Countrywide Drains, Noel Group Recruitment, Douglas Control & Automation, Vertel Telecommunication Specialists, Sysco, Dr John Murphy at Bridge Medical Practice, PC Systems, Visit Tralee, Pigsback, Barrys Tea, Cork City FC, Montenotte Hotel, Clayton Hotels, Trigon Hotels, Gate Cinema, and Dream Team Nannies.
If you would like to donate to Tabor Group's Exceptional Needs Fund, you can donate here or contact us today by calling +353 (21) 488 7710 for Cork or +353 (1) 639 2962 for Dublin, or alternatively you can email us at info@taborgroup.ie