Tackling addiction – Cork GAA & Tabor Group announce partnership
Partnership to tackle addiction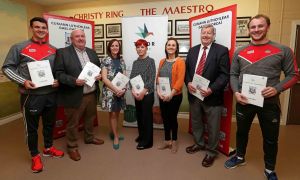 Cork GAA announced that it is partnering with the Tabor Group, to tackle the issue of addiction and to change the way in which it is portrayed. 'We need to start talking about addiction'. This is the mantra coming from Noel O'Callaghan, Chairman Health and Wellbeing Cork GAA as he announced details of their partnership at the launch of their Critical Incident Plan.
Tabor Group will work with Club Welfare Officers initially to help them to have a better understanding of addiction. The training to be provided is to help clubs understand about substance use, misuse and dependency, spotting signs of problematic use of behaviours and substances, having the difficult conversations and making connections with treatment services.
Noel O'Callaghan said "Cork GAA are delighted to welcome Tabor Group as our Partners. In society today the temptation of alcohol, drugs, and gambling has become a reality and we in Cork GAA are delighted to have Tabor Group on board to help us in promoting awareness in these issues and in training our personal to look out for these issues at club level.
Addicted people need to understand this chronic health condition and learn to manage it in daily life. The goal of Tabor Group is to empower GAA clubs to have the confidence to step in and know how to create a safe environment to open up the conversation and to get the person struggling with addiction on the path to recovery as quickly as possible.
Mick Devine, Clinical Director Tabor Group, said "We applaud Cork GAA in their proactive approach to tackling the issue of addiction.  We recognise that through the voice of the GAA and the experience of Tabor Group in supporting and treating addiction together we can help make a difference together"
For more information on Tabor Group, please call Sharon O'Donoghue Marketing & Communications Manager, Tabor Group on 086 3800 991 email sharon@medialife.ie or visit www.taborgroup.ie
Tabor Group is a leading provider of residential addiction treatment services in Ireland. Offering hope, healing and recovery to addicted people and their families through an integrated and caring service. We provide support and care to hundreds of clients each year suffering from addictions to alcohol, substances, gambling and food.
Tabor Group is comprised of three residential addiction treatment centres in Cork: Tabor Lodge, Renewal and Fellowship House.  Tabor Lodge first opened in 1989 and began providing treatment for people suffering with alcohol misuse.  Since then, the services have grown to three centres providing support and care to people suffering with addictions to alcohol, substances, gambling and food.
Our facilities include:
Tabor Lodge, Primary Residential Treatment Centre
Renewal, Extended Residential Treatment Centre for Women
Fellowship House, Extended Residential Centre for Men